Thousands of stories lie beneath graduation caps.
However, a photo surrounded by a Biblical, loving note attached to a graduate cap certainly caught the eyes of passersby last Friday. Charvie Duque – the cap's owner – received her associate's degree in hospitality and tourism from KCC. Prior to the ceremony, Duque said that she flew back home to visit her father's grave and let him know that she was graduating and that she wished he was there to see her move the tassel to the left.
"He always encouraged me to do my best," Duque said. "Like, when I was doubting myself he always told [me] that I could do it, that I could be better. … He's always been my motivation."
Duque's father, Cesar Duque, passed away seven years ago, when she was about to turn 16 and beginning her sophomore year at Lahainaluna High School in Maui. Prior to his passing, Duque's father had incentivized his daughter to pursue her passions; through the support of her family, Duque engaged in her high school activities, such as clubs, school sports and student government. Duque recalled one special occasion, during her freshman year at high school, when her father made so much noise supporting her during a tennis match that people wondered whose dad that was.
"I was in a very close [tennis] match," Duque said. "And he just pushed us there, he had a 'I am the boss' hat, and everyone was like 'Who is this dad?' ", because he kept cheering her loudly with words of encouragement. The support and incentive drove Duque to win the match.
"It was just a very big moment," Duque said.
Her father's death – following complications caused by a heart surgery – took Duque by surprise.
"He literally was my best friend, my hero, my anchor," Duque said. "Everything that a dad is." 
The hospitality major shared that Cesar Duque suffered from a rare genetic disease called Bart's Syndrome, which  causes severe anemia, an enlarged liver and spleen and heart defects. The degenerative disease developed into weight and heart problems, and Cesar Duque eventually had to undergo a heart surgery to replace a leaky valve in 2011. There was 50 percent chance of survival and recovery. The surgery was successful, but two days later something went wrong, causing Duque's father to pass away on July 24, 2011.
Cesar Duque's daughter was among one of the more than 500 students who were awarded their associate's degrees and certificates of competence from Kapi'olani Community College last May 11. The ceremony was attended by families and friends as well as faculty, and state representatives, including Gov. David Ige, Hawaiʻi Sen. Stanley Chang, and state Rep. Bertrand Kobayashi and Calvin Say.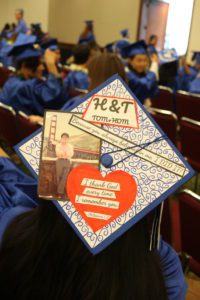 The cap's white background made for a stark contrast to the bright blue gowns that circled around Hawai'i's Convention Center for this 2018's commencement ceremony. Surrounded by a heart and framed by a verse from Philippians, the cap read: "I thank God every time I remember you."