By Estefania Magdalena | Staff Writer 
There are many options for recreational activities related to art when living in O'ahu, Hawai'i. One of those alternatives is go for a walk to see the artistic walls located at the Kakaa'ko neighborhood, in which every year artists from Hawaiʻi and all around the world participate of the WOW!POW! Worldwide Mural Festival. 
POW! WOW! Worldwide , a non-profit organization of contemporary artists committed to community enrichment through the creation of art, was founded in 2009 in Hong Kong by artist Jasper Wong. On February of 2010, the first edition of the art festival was organized in Honolulu. This year, in commemoration of the 10 years since the company was created, more than a hundred artists from the globe participated in the POW!WOW! Hawai'i 2020 edition. 
The festival helded between February 7th and the 16th of 2020, brought together national and international artists to paint murals and create other forms of art. The murals express the artists essence, ideas, and creativity through their work and the street art is varied in art techniques and forms. Also the festival offers other types of attractions such as live concerts, art exhibitions, dance battles, the POW!WOW! School of Music, and the POW!WOW! School of Photography. 
Here is a list of the 10 local, national, and international artists who were invited to collaborate in 2020's edition of POW!WOW! Hawai'i. Although the date for the 2021 edition is not yet confirmed, it is a good time of the year to go see the murals since they are supposed to be changed in February of next year. 
1. Mural by Kaiʻili Kaulukukui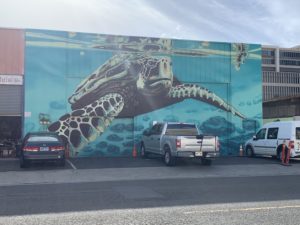 Painted by local artist, painter, and muralist from Big Island, Kaiʻili Kaulukukui. The mural of this big  turtle is located on Auahi St, between Coral St and Cooke St. As a muralist, his work can be seen in many different places like California, Hawaiʻi, Mexico, Canada, Nepal, New Zealand, Hungary, and China. His art is inspired in the ocean life and natural resources of Hawaiʻi, cartoons, comic books, and the native culture. The works of this artist can be seen on his Instagram account, @artworkbykai and also on his website. 
2. Mural by Simone Legno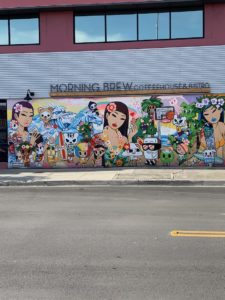 Legno is an Italian artist dedicated to creating designs influenced by his interest in Japanese culture, as well as graffiti and street art. He is also the co-founder of Tokidoki brand, a company that makes aesthetic art with criminally style characters. His mural is located at Auahi St and Coral St, and combines characters of Japanese characteristics, bears, and the Hawaiian culture. Legno's work can be viewed on his Instagram, as well as on Tokidoki's online site.
3. Mural by Audrey Kawasaki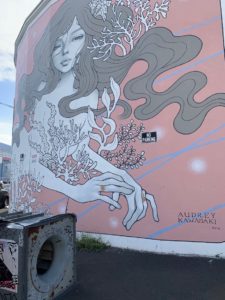 This artist from Los Angeles, California, creates portraits of adolescent women with sensual features. Her works are generally made by oil painting on wood panels and her style is described as a fusion of Japanese manga and Art Neuveau. This mural in the shape of a teenager fused with a mermaid is located on Pohukaina St between Ohe St and Koula St. On her Instagram page she is followed by 435,000 people where they can see her work, as well as on her website.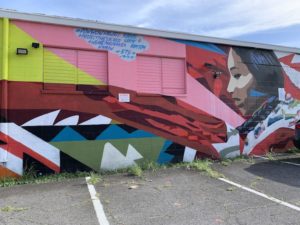 Josh Hastings creates artwork under the name of "Rumtum" in music and in art and he is from Cleveland, Ohio. His style is represented by natural geometric patterns mixed with tropical plants. His work is inspired in the aquatic nature, marine life, and landscapes he creates with energetic colors. In this mural located on 333 Cooke St., Rumtum collaborated with Yuriko, a woman artist from Kyoto, Japan and also from O'ahu. The mural represents the firmness by native people of Hawaiʻi to protect Mauna Kea, a sacred site located on the Big Island.
5. Mural by Tatiana Suarez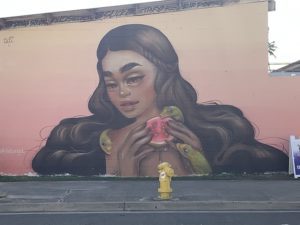 Tatiana Suarez is an artist, painter, drawer, and muralist from Miami, Florida. Her works show the unreal and the exotic through creamy colors. Her paintings are influenced by his Salvadoran and Brazilian family roots, in which South American folklore and mythology merge. Her drawings involve doe-eyed characters who try to show an enchanted narrative. In her mural located on Auahi Street, between Coral Street and Lane Lane, a young woman can be seen holding a fruit, while at the same time 3 snakes appear to steal it. More Suarez works can be seen on her website.
6. Mural by Lauren Hāna Chai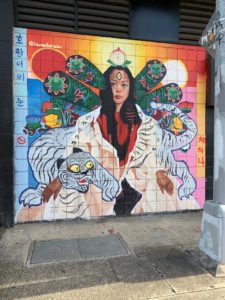 Lauren Hāna Chai is an artist from Oʻahu who paints influenced by her parents' routes from South Korea and the United States. In her work, she narrates personal experiences in her life that marked her. On her website she said that the principle life experience that made her start painting was when her mom abandoned her when she was younger. She likes to mix abstract elements with traditional elements, like the Korean folk art mixed with modern life problems in the United States, who reflects her own life as the first generation of her family born in the United States. Her mural is located on Cooke Street and Pohukaina Street, where there is a woman surrounded by a tiger that protects her combined with Korean symbols. Her works and products can be seen on her website. 
7. Mural by Kevin Lyons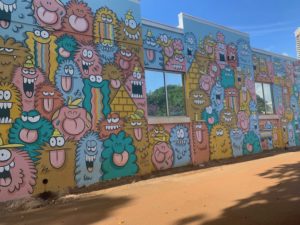 Kevin Lyons is a designer, illustrator and creative director who lives and works in Brooklyn, New York. His mural is located on 690 Pohukaina St. and it has monsters of different colors that vary between blue, green, orange, and yellow. Lyons's designs are of playful, colorful and fun monsters that he began to paint throughout his years working for international brands and commercials. What monsters represent in his work is the human emotions at different times, for example being sad, happy, angry or mellow. Lyons has designed and worked for international brands such as Nike and Coca-Cola, and his works have been exhibited internationally. More of his collaborations with POW!WOW! Worldwide can be seen here.
8. Mural by Bethany Georges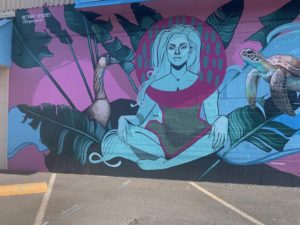 This mural depicting a woman sitting calmly between a goose and a turtle is located at 465 Coral St. The mural is painted in shades of violet, green, and blue as it represents the marine and natural life of Hawaiʻi. Georges is a Kailua-based artist who paints murals, paintings and pet portraits. Her work is inspired by nature and different types of animals and plants. About this mural, Georges said on her website that she was inspired by empowerment and peace, and that she wanted to represent the feminine but also the strong in a harmonious balance between ocean and land. 
9. Mural by 123Klan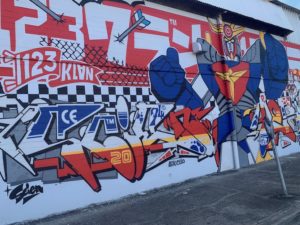 123Klan is a French graffiti crew made up by artist couple Scien and Mrs. Klor. Their creative studio was founded in France in 1992 and its headquarters have been in Montreal, Canada, since 2007. Their passion as a team is street graffiti but they also work on logo designs, illustrations, and fonts. Their mural is located at 465 Coral St. and shows a Transformer-looking figure combined with typical graffiti-style fonts in red, white, yellow and blue. The couple also designs skateboards, clothing, video games, stickers, and books, which are posted on their website.
10. Mural by Brian Butler and Josh Hall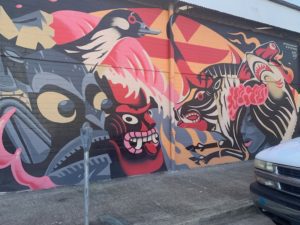 This mural is located on Pohukaina Street and Coral Street and was painted by Brian Butler, a Miami-based illustrator, designer and muralist known as "The Upper Hand," in collaboration with artist, muralist and graphic designer Josh Hall, known as "The Bag Head," who is also from Miami. The mural shows a woman with indigenous Hawaiian features combined with animals and devilish figures, representing different components of life in Hawai'i and the wild side of the island. Both artists's work are influenced by street art, tattoos, and skateboarding.